Urethane Foam Chair with Gentle Hold & Support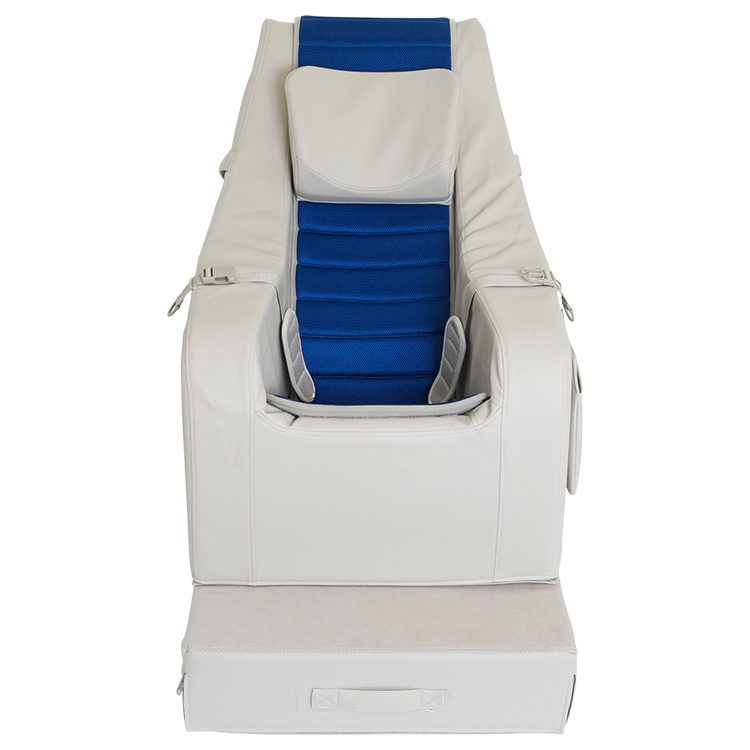 Gravity Chair is the chair totally filled with urethane foam.
Soft and elastic urethane foam and our seating technique of 30 years' development hold and support you gently. The present Gravity Chair is its 4th generation after the continuous improvement.
It's our ultra-long seller which supports the smiles of children in 28 countries.
Two Available Types
Two Types of Seat Cover by Required Function
You can choose type of Gravity Chair by usability and function.
Either type uses selected cover material which emphasizes breathability or cleanness.
Air-Breathe
For users who emphasize
to prevent getting stuffy.
The seat cover is made of two combined materials which realize superb breathability as well as dirt-free. For further need to keep it dry, built-in cooling fan can be installed.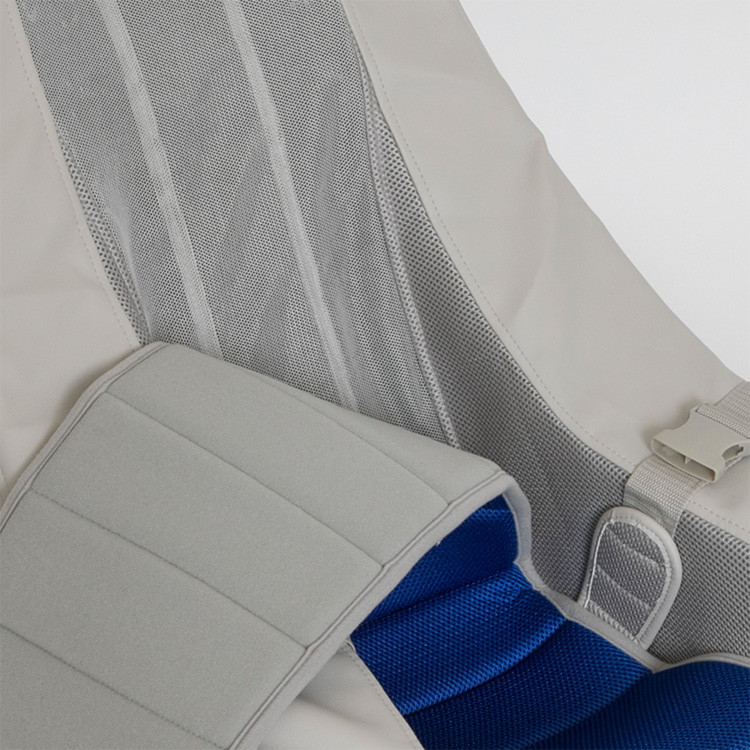 Wipe-Down (PU leather)
For users who emphasize
to prevent dirt or odor.
The seat cover is made of soft and comfortable synthetic leather; a special material which is waterproof to prevent dirt or odor, but breathable to keep it from getting stuffy.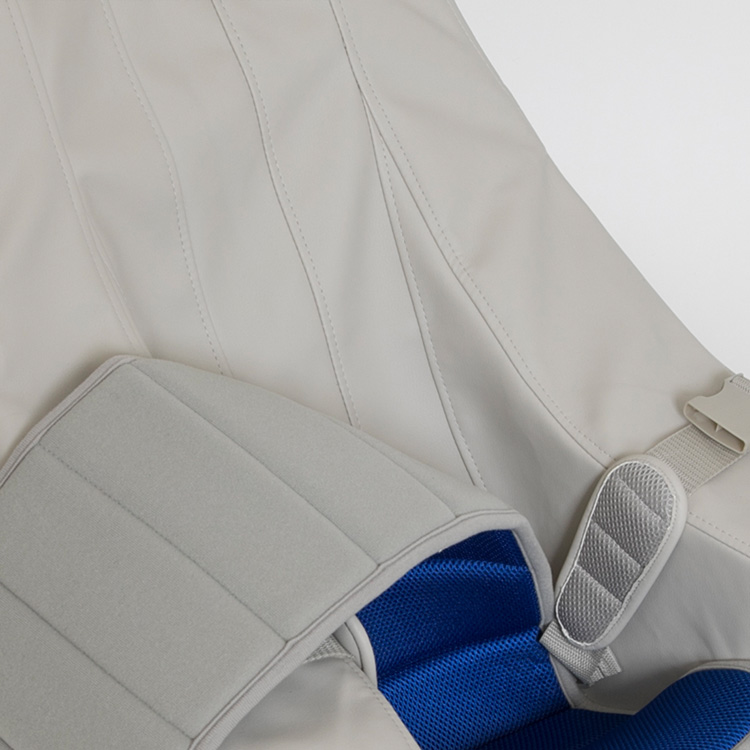 History
Life with sitting supports
our mental and physical health.
Life with sitting supports our mental and physical health.
In our daily lives, we are used to sit and stand against gravity. Such movements are essential to stimulate muscular maintenance and development to keep our body functioning. Once we become bedridden, it affects so widely as loss of muscle and bone weight, decline of regulatory function of circulatory system and so on. We emphasize "seating", namely "sitting" because the support for sitting posture is important to keep our health.
Even if it's difficult for you to sit alone, with Gravity Chair, you can keep sitting posture at ease and in comfort. Gravity Chair is also a device to support you mental and physical health.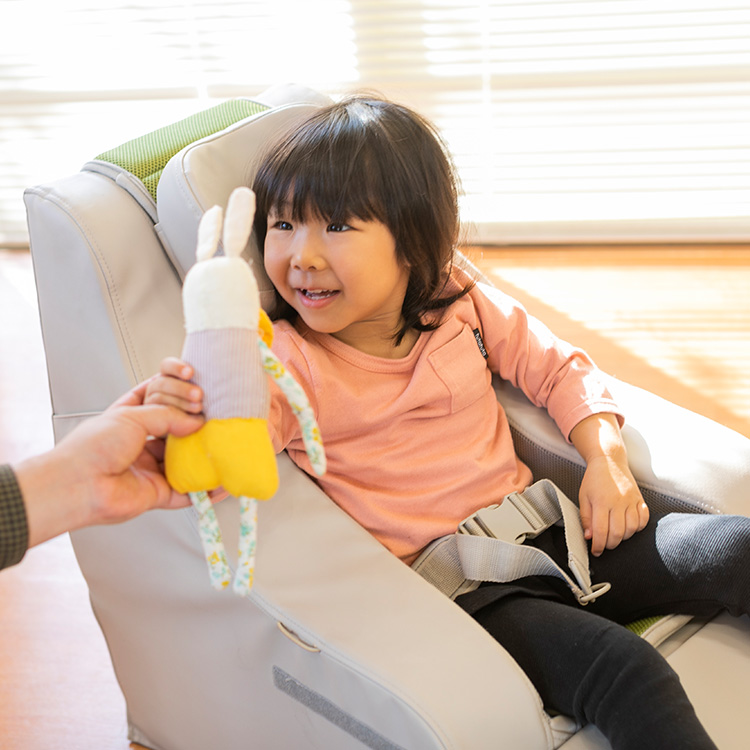 User-Friendly Design
Ready to use, easy to carry.
User- and the family-friendly chair.
We focused on developing Gravity Chair as handy and portable as possible because we wish you use it every day and everywhere. It's ready to use when you purchase without detailed adjustment. It's light enough to move in the room or carry it outdoor easily. Gravity Chair is designed to be not only user- but also family-friendly.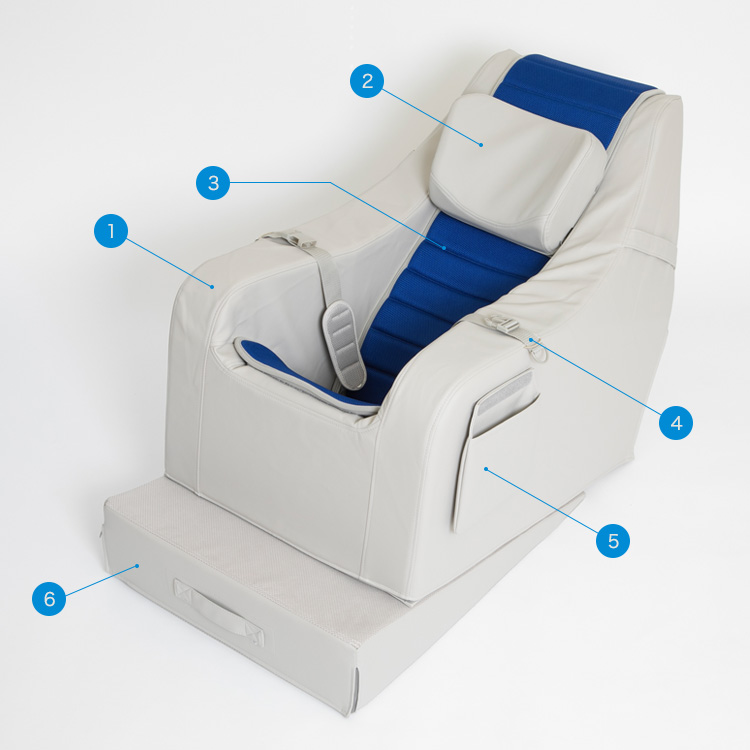 1

 Main Unit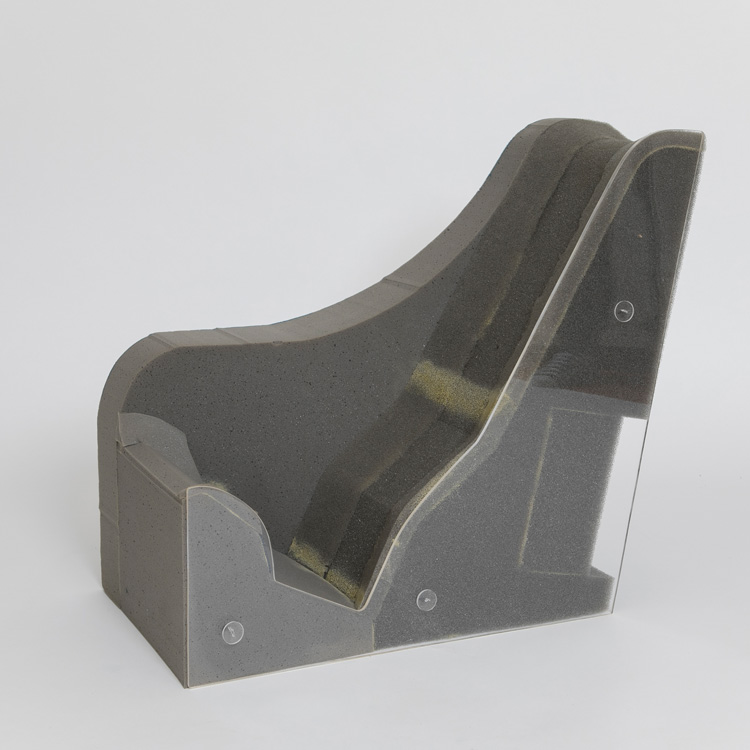 Made of appropriately soft and elastic urethane foam with superb breathability.
2

 Headrest
Large and stable 3-D shape.
3

 Seat Liner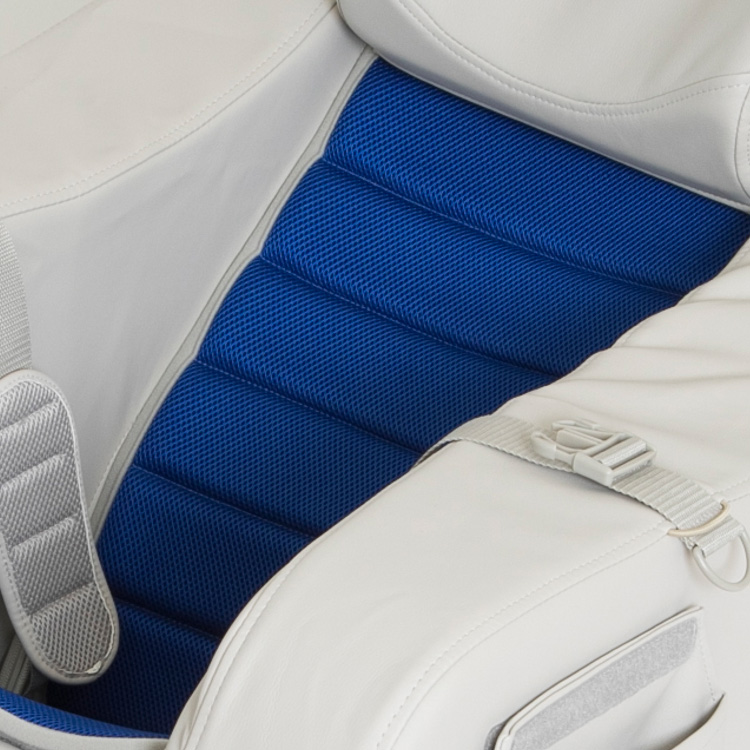 5 Colors to choose. It improves the fitting to the body.
4

 Belt Holder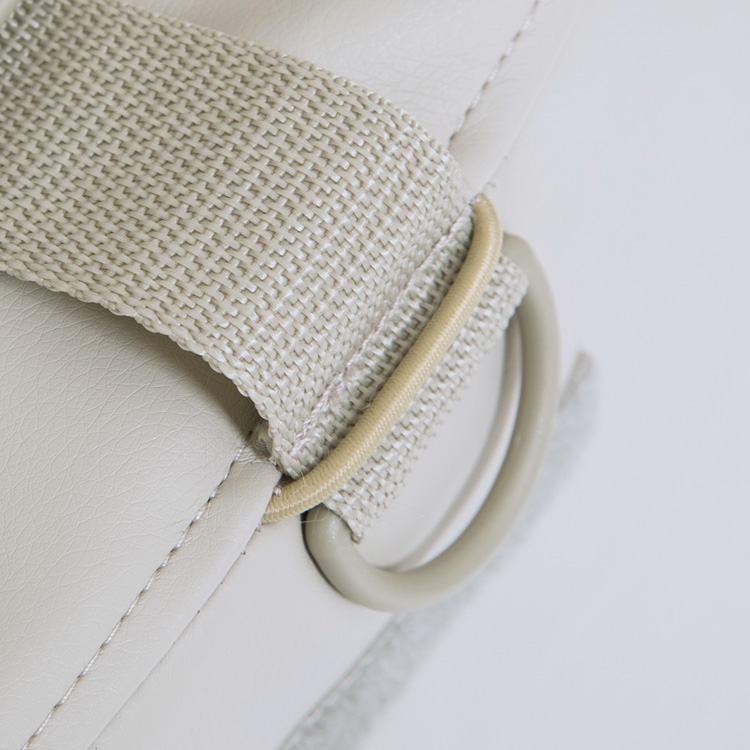 Belt Holder Rubber Cord keeps the strap from dropping on the seat while sitting on.
5

 Side Pocket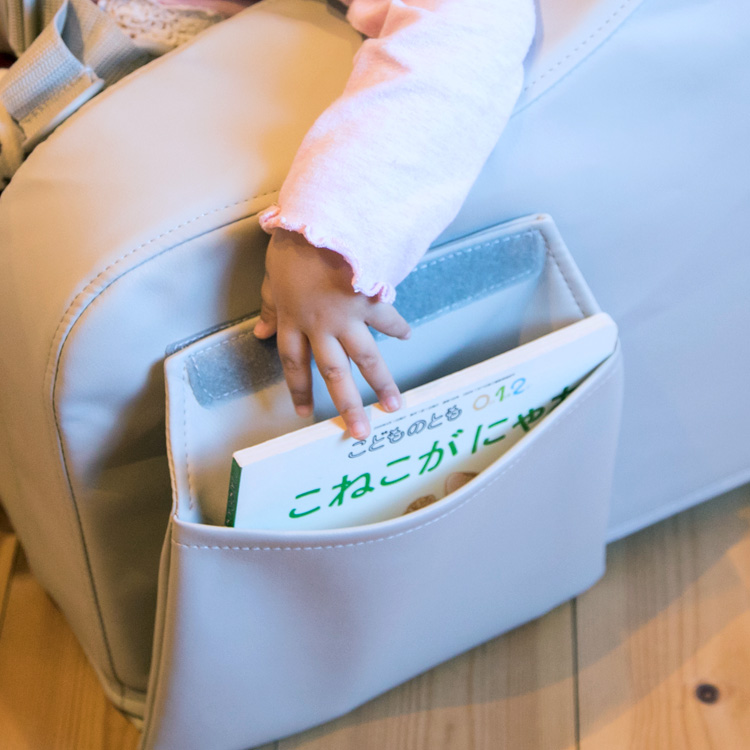 Handy to keep book, towel or small belongings.
6

 Wedge Mat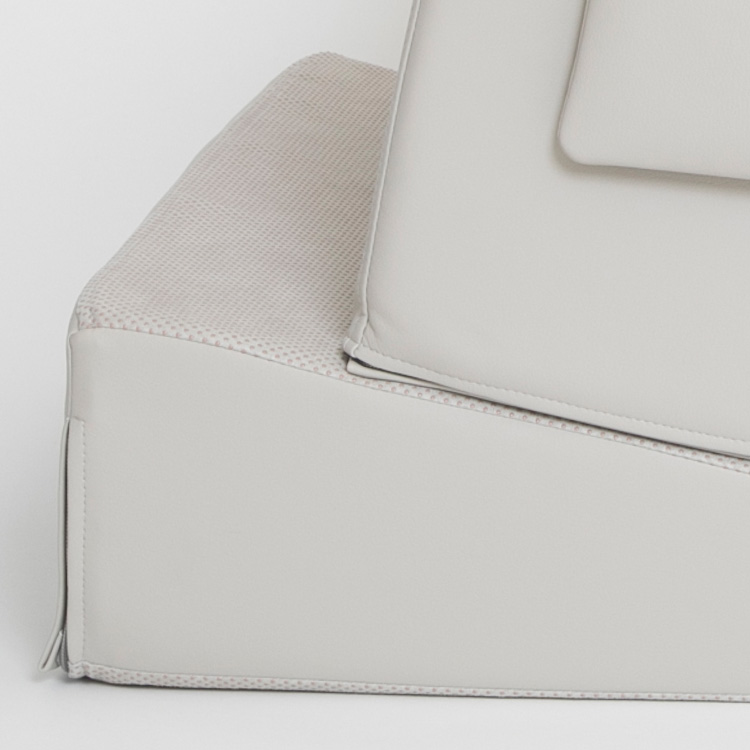 Makes sitting angle adjustable with inserting it under the chair. Anti-slippers are attached at upper and lower ends to hold the angle against the movement.
Adjustable Seat Angle
Wedge Mat enables optimal seat angle.
The optimal position is which your head is stable and easy to control without collapse of whole body balance. Let's find it out with utilizing gravity.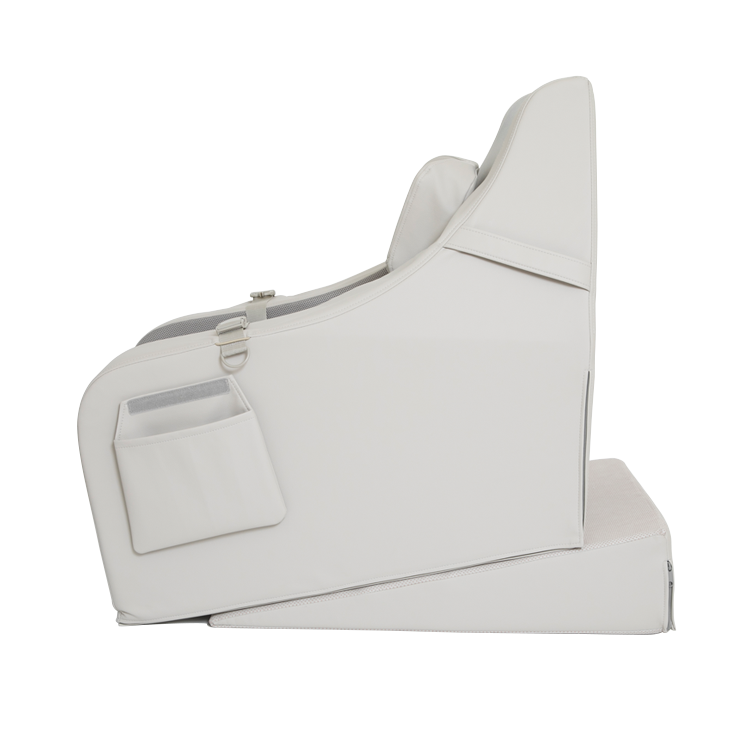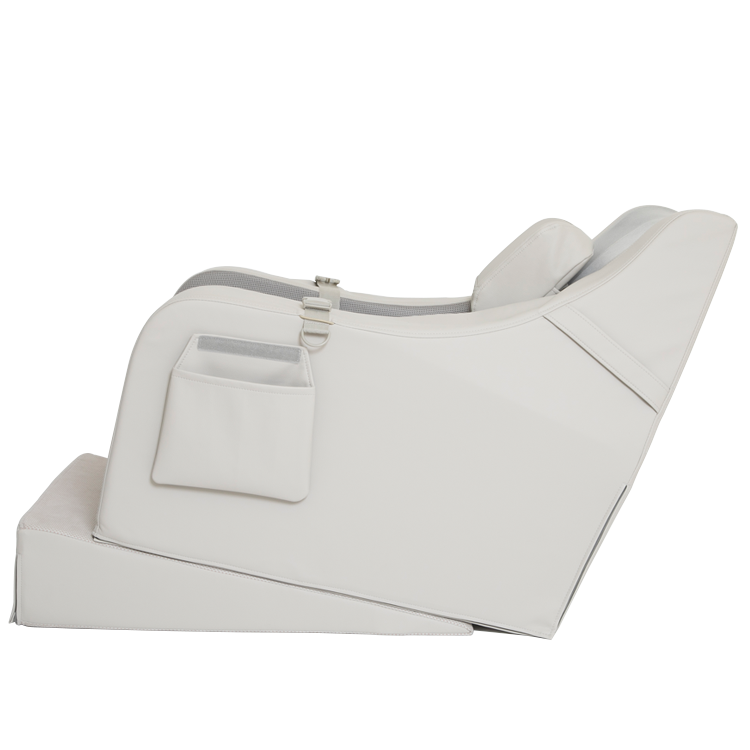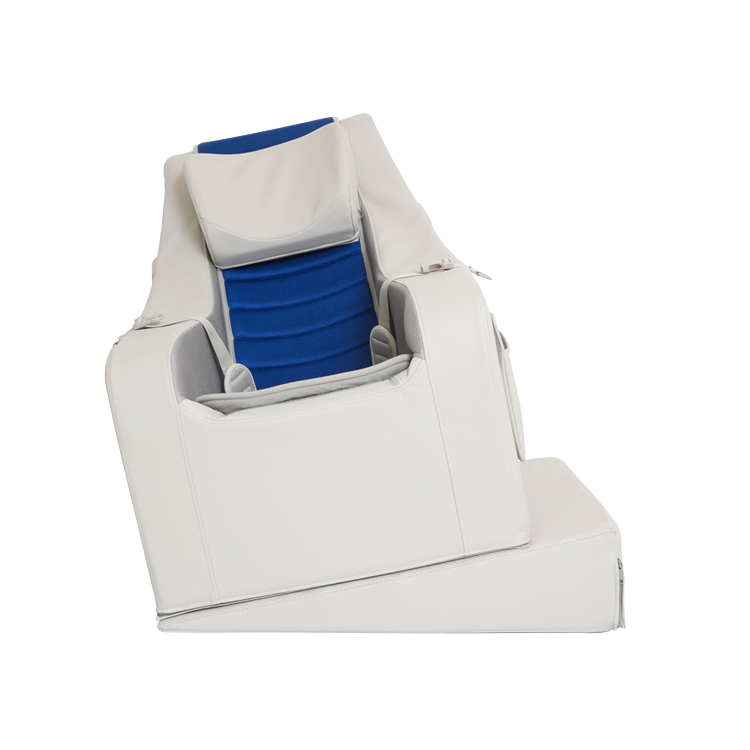 Colors at Your Choice
Choose your favorite seat liner from five colors.
Please choose one according to the user's preference, room interior or season.
You can purchase liners of different colors
The Seat Liner makes you feel your body fit to Gravity Chair better. The material is 3-D mesh fabric with superb breathability.
Optional Accessories
Optional accessories meeting the voices of users and their families.
Therapy Tray
Easy tray expands the range of
activity with supporting the body.
Therapy Tray can be used as an easy table put on armrests of Gravity Chair. While it enables various kinds of activity, with your arms put on, it assists you to prevent your body from falling forward. Small and Large sizes are available.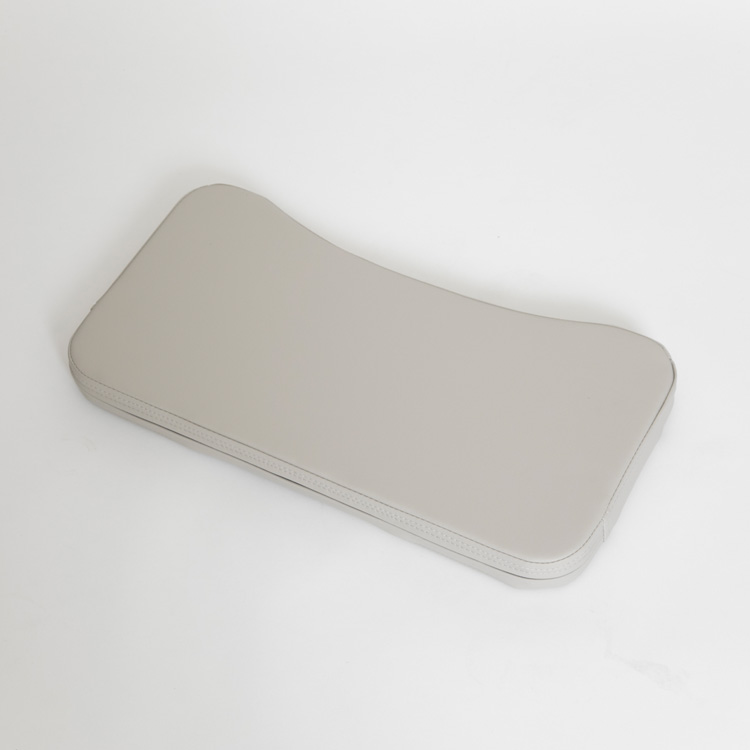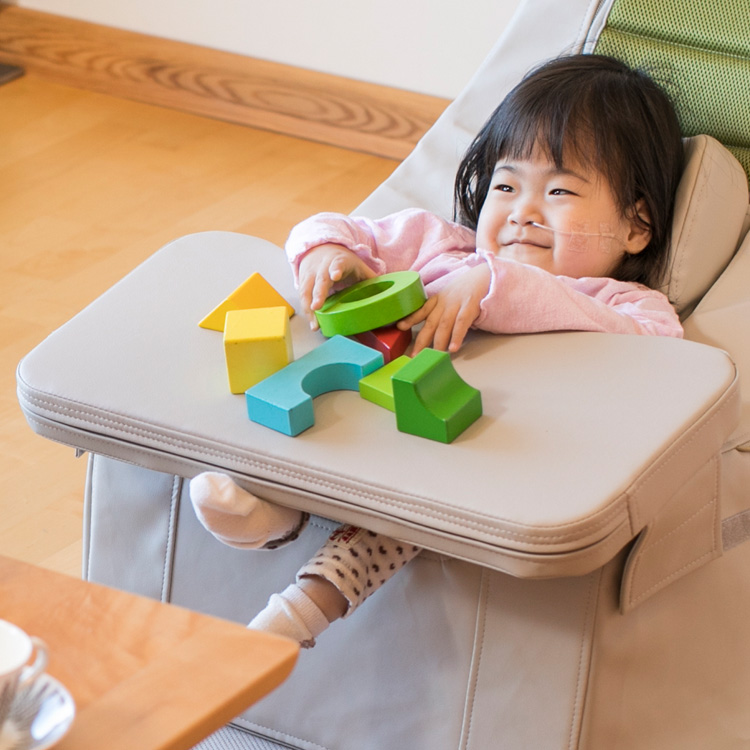 Wooden Utility Table
Multi-purpose mobile table
For dinner, study and play, wooden-made board, height-adjustable, 4 casters with stopper, durable and easy to clean. Made in Japan. Applicable chair size: M – XL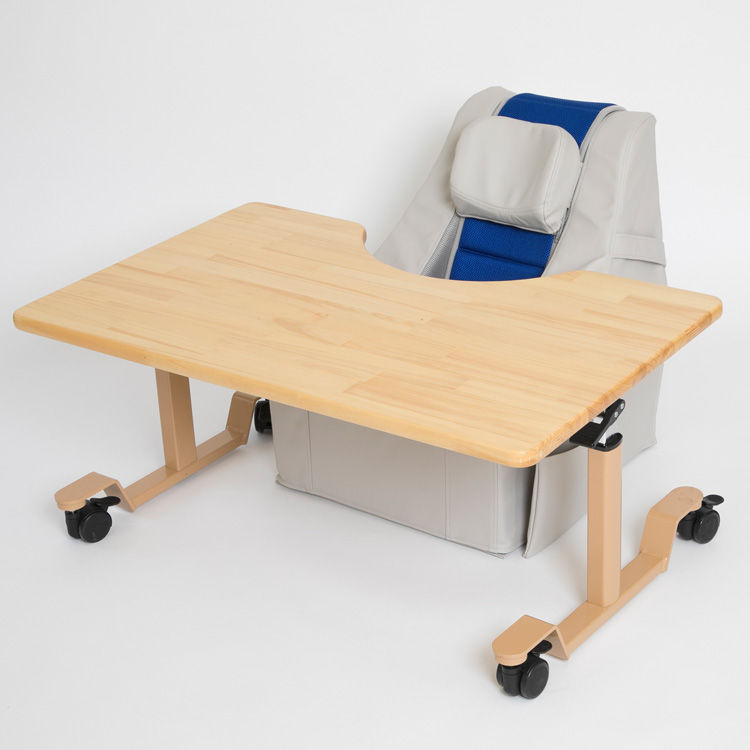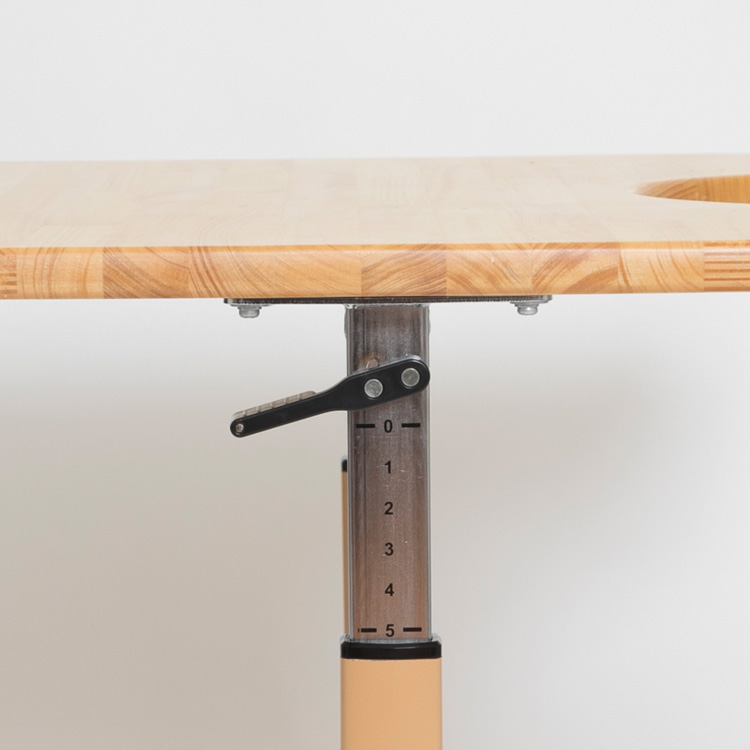 Removable Incontinence Receiver
Protects the chair
from incontinence.
Removable, easy-to-wash, water-proof but breathable for comfortable texture. Available for all 4 sizes, color: Black.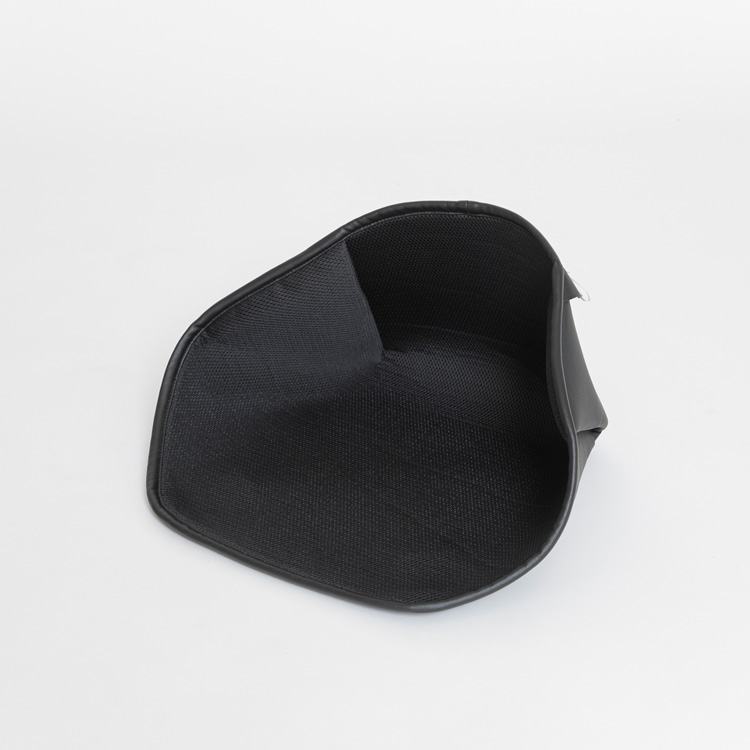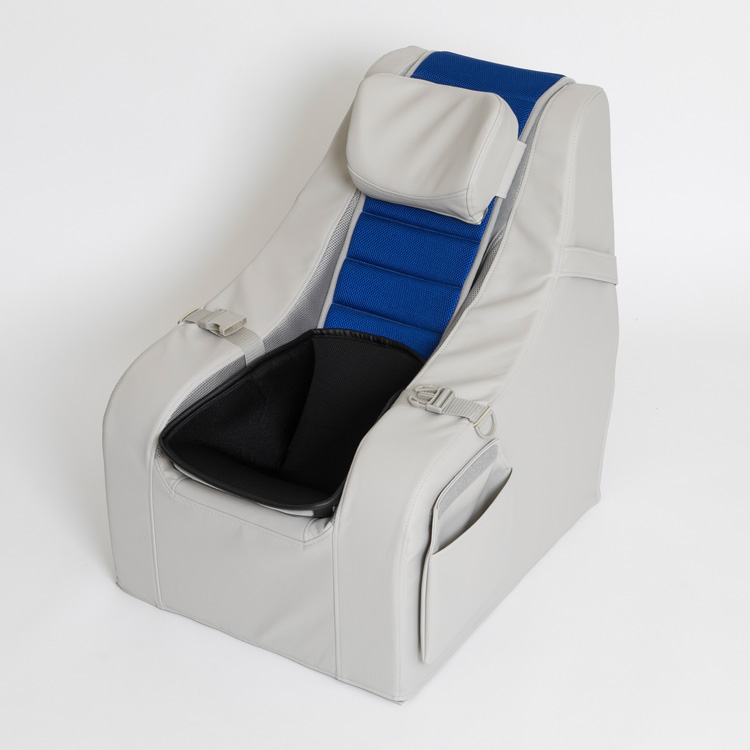 SMALL
| | |
| --- | --- |
| Seat depth | 24cm |
| Age | 2 – 6 year |
| Body height | 90 – 110cm |
MEDIUM
| | |
| --- | --- |
| Seat depth | 30cm |
| Age | 6 – 10 year |
| Body height | 110 – 130cm |
LARGE
| | |
| --- | --- |
| Seat depth | 38cm |
| Age | 10 – 13 year |
| Body height | 130 – 150cm |
EXTRA LARGE
| | |
| --- | --- |
| Seat depth | 43cm |
| Age | 13 year + |
| Body height | 150 – 170cm |
Contact
for Special Needs
to purchase CARROT 3.
The service for CARROT 3 requires deeper understanding and skilled handling to the physical condition of users, as well as specialized knowledge and technic such as precise fitting.
These products are sold only through the agents and workshops which has made distribution contract with us, but not in car accessory stores. Please contact to your nearest distributor.